How to Answer
the New Common Application
Essay Prompts
4. Describe a place or environment where you are perfectly content.
WARNING: Bliss Can Be Boring
This is the question asked in the fourth prompt for the new Common Application essay. My sense is that students are drawn to it more than the other four. I'm not sure why. It is my least favorite—but that could change. It's being called the Zen essay.
Then why am I wary of this prompt? I believe writing about a blissful place can be very dull. You may love soaking in the bathtub, or walking in the woods, or doing yoga, or baking cookies or cooking Thai food. Who doesn't love hanging out in the library? These activities can be blissful. But do I want to read about you enjoying them? Very doubtful.
My best advice on prompt No. 4 is to avoid it—unless you are inspired by it, of course! I believe the first two prompts, #1 and #2, will help you write more engaging essays that help you stand out among the crowd. Here's my post on how to respond to them.
How to Write About a Place and Make It Interesting
If you still love the idea of No. 4, you need to write beyond just describing a wonderful place and why you love it so much. I would consider describing this place of contentment when something happened there. Think about "a time" when you were not perfectly content—upset, worried, restless, anxious, depressed, scared–and where you went to balance your emotions or well-being. Then explore and examine why and how you sought out and found a different environment to help you recover, and what about that place helped you feel better. By describing "a time" in your essay, you will inject some energy into your description of a blissful place. Your essay will be interesting to read! You could start with an anecdote about that "time," and then go into your analysis about the place and its effect on you. 
Another way to avoid a cliche answer is to see if you can use the "unexpected" to give your answer some zing, a twist or an edge. Here some suggestions on how to find that:
A. Think of a place or environment where no one would expect you to be content. Then you have something to say about yourself–why are you content in a place where others would not enjoy. That essay would reveal something unique about who you are. Examples: The middle of a thunderstorm, on a long airplane trip, singing karaoke, in the middle of a test, in the hospital, on the ledge of a cliff, in the dentist's office, etc. (I have started this Tumblr blog to inspire you visually.)
B. Find a place where you didn't used to be content, but now are content.That way, we can see how you made something happen, how you used your core qualities (determination, creativity, passion, etc.) to make a place you were uncomfortable into a lovely place. Most likely, you needed to change something about yourself to achieve this–your thinking or attitude. This could be an interesting read.
C. If you do go for a straight-on piece about a blissful place, I would urge you to focus it–and think of something mundane (everyday). Instead of writing about how you find bliss in the kitchen, narrow it down to one single activity in the kitchen, say it's baking cakes. Then narrow it some more, to a specific kind of cake, like red velvet cake. The more specific, the more interesting. What will make the essay is not where you find bliss, but how you find bliss out of it–and why.
Also, if you try one of these approaches, I would start your essay by using your descriptive writing skills to create a visual vignette (snapshot) of that "place." (Show Don't  Tell.) Put the reader in that place or environment using concrete and sensory details. What does it look like? Do you hear anything? Smell anything? How does it feel there? (It's very similar to describing a setting in a work of fiction.) Then you can go on to give more background (Who, what, when, where and how) and explain the place or environment, and why you like it when most people don't, and what this means to you.
If you go for A. and describe a place where most people are not content, you can deliver the twist or zinger in the second paragraph by saying how you find it blissful. If you go for B., you could describe the place (literal or figurative) where you were always very discontent or unhappy, and then go on to how and why you changed it. If you try C., again, describe yourself in the middle of the steps of making this cake, then go onto to talk about why the kitchen is a blissful place for you.
I think if you follow an idea such as A, B or C above, which puts a thematic "frame" around the essay to make it interesting, you could end up with a great little essay. If you can't find an interesting angle, and can only think of predictable blissful places, then skip it! I always believe stories (Learn how to craft an anecdote.) are your best bet for college admissions essays, and number 1-3 all have prompts that try to elicit these from you.
If you plan to write to one of the first three prompts for the Common App, check out my Jumpstart Guide to help you write a narrative style essay about a story or experience.
Here are the new prompts for the Common App (click each prompt to find my post on how to respond to it!):
I have collected all of my advice on how to answer the new Common Application prompts, as well as the two University of California prompts, and other common prompts (Such as "Why This School?") in my new ebook guide, called Essay Hell's Prompts Primer. You can download it from this Web site or find it on Amazon Kindle. It costs $4.98.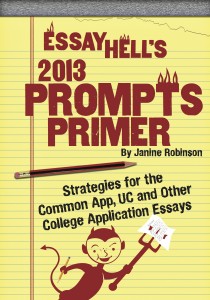 Also, I just published an ebook that is a step-by-step guide to writing a college admissions essay. If you want help  focusing your topic, and finding and telling a compelling anecdote, this guide works perfectly with most of the Common App prompts (especially 1,2, and 5). It costs $9.98 and you can order using the button below. (If you tell your parents this would help with your college essay, I'm pretty sure they would spring for it!)
Still Stuck? Scroll Down to Bottom to Find Essay Writing Help by Topic

Five Super Helpful Posts!

Check Out My Popular Writing Guides!

Available as Kindle ebooks or paperback on Amazon! Click the book images below for details. (Let me know if you left a review on Amazon, and I will send you one of my guides for free! Email me: EssayHell@gmail.com.)

My Latest Guide: Includes Hot Writing Tips and Sample Essays! Kindle Ebook Only $2.99! (Paperback coming soon)

Advice for The Common Application, UCs and Supps

Find a Topic That Sizzles

If You Want to Order and Read My Books Instantly via Kindle on Your Computer, Phone or Other Device

Do You Work with Underprivileged Students?

I'm offering my three essay writing ebook guides FOR FREE to teachers or college counselors who serve students with limited resources. Just email me your name, role, school or organization, and which book(s) you would like: EssayHell@Gmail.com.

Browse Posts By Month

Looking for Inspiration on UC Prompt: Describe the World You Come From?

Want More Hot Tips? Follow me!

Archives