Discover your personal stories and unique voice to rock your essays!
(Click the flames)
Welcome to Essay Hell!
On this site, you will learn tips, advice and strategies to write your dreaded college application essays—and escape the misery of Essay Hell.
Read the helpful posts (click the flames and icons!) and learn to navigate the complicated admissions process, discover powerful writing tools and techniques, and craft standout essays to land in your dream school.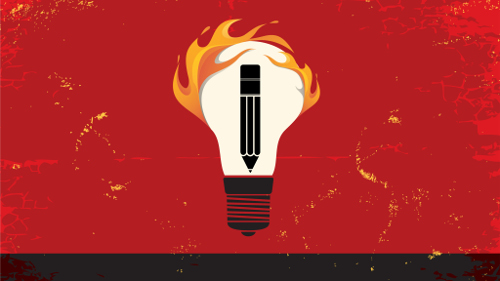 Learn to Write Your Essay
in One Hour!
Work At Your Own Pace
Click the lightbulb to learn more about my popular on-demand, online essay writing course: How to Write a College Application Essay.
Includes 11 short instructional videos, my four writing guides and related worksheets and exercises.
You can start now! Only $99.
"I wanted to say thank you for your help because I was just accepted to Columbia University!  The regional admissions officers sent all of the admitted students a typed letter and wrote a personal note at the bottom, and he talked about what a great essay topic I had. Without your help, I don't know what I would have done."       Andrew Losa, Columbia University (2015)
"Funnily enough, I actually used this website to help guide a lot of my application essays, including this one. So I guess this would be the perfect opportunity to say thank you! I feel like my essays definitely strengthened my entire application."     Brittany Stinson, (2016) accepted to all 8 ivies and Stanford (wrote famous "Costco essay")  Read more testimonials!
"Thanks to your skills and desire to truly help me improve, I was admited to all of my top schools…With your help I was able to receive a full four-year ROTC scholarship to UCLA, USC, and UCI, along with my appointment to the U.S. Military Academy at West Point. Thank you!"   Andrew Aldaz, West Point (2016) (See one of Andrew's essays)
Everything You Need to Know About the Four Most Common Applications
(Click Icons for Tips and Strategies!)
Escape the Heat!
Read popular posts on these subjects!
How Do You Learn Best?


Check out my services and resources below!
The Essay Hell Blog
More than 3 million viewers and counting!
FAQ | College Application Essays
A new company that wants to help students ace their college applications set out to find the most commonly asked questions related to college application essays.
They also recruited me and several other essay experts to answer them.
I'm sharing below 20 of the most common questions about college application essays that I answered, along with links to longer explanations and related helpful information: read more…