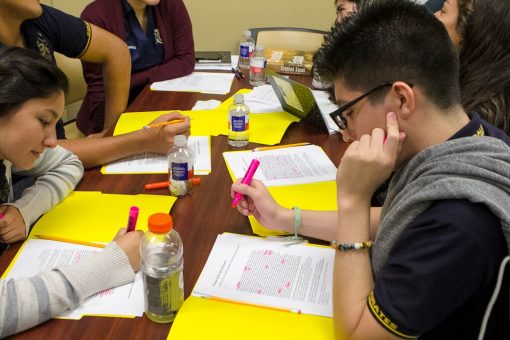 First-Gen Students Learn to Write
College Application Essays
Last month, I had the privilege to work with a group of teachers and students on their writing and college application essays from the Rio Grande Valley in the southernmost tip of Texas.
Almost all of the 50-some English teachers and 165 students were Hispanic, and most of the kids will be the first in their families to attend college.
The College Essay Writing Workshop, which is a four-part series of workshops for the most promising students from 30 high schools in the Valley, was sponsored by the Texas Graduate Center, which is an initiative of the Texas Valley Communities Foundation (a non-profit community organization), and the Region One GEAR UP Program, whose mission is to help create a college-bound culture in this part of the U.S.
Earlier in the year, their students toured top colleges and universities around the country, including Harvard, Princeton and other ivies.
During these visits, the admissions officers from the various schools told the sponsors one thing over and over: The college application essay played a huge part in who they accepted, and urged them to help their students write better ones.
So they got in touch with me.
I'd never spent time in that part of Texas, where the Rio Grande river winds up along the border between the U.S. and Mexico. It's been in the news lately, mainly as ground zero in the U.S. for the flood of illegal immigrants, many children, fleeing unrest in Central America, and violence in Mexico due to drug-related activity.

Continue reading »
Don't Be Terrified! Love Will Win.

Click on My Essay Writing Guides to Learn More

Do You Work With Students Who Have Limited Resources?

I offer my essay writing guides and other resources free to counselors, teachers and others who work with underprivileged and underrepresented students. Contact me for details at: EssayHell@gmail.com.

Five Super Helpful Posts!

Browse Posts By Month

Looking for Inspiration on UC Prompt: Describe the World You Come From?

Want More Hot Tips? Follow me!

Archives

Error: Twitter did not respond. Please wait a few minutes and refresh this page.
Learn to Write Your Essay in One Hour!

My fast-and-easy online e-course: How to Write a College App Essay

Perfect for The Common App, UCs, grad school, transfers, scholarships and other essays!

Find your best topics. Map out a writing plan. Learn to write in a narrative style. Work at your own pace! (Click lightbulb image for details.)

*Includes unlimited access to ALL 4 of my essay writing guides!